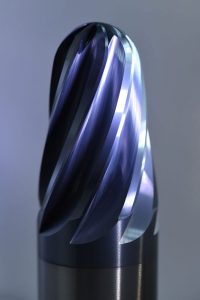 Physical Vapor Deposition (PVD) coatings were introduced in the early 1980s, and have continued to develop over time. The concept, however, is still the same. Coating your part, item, or product has many benefits to the cutting & forming tool industry. The use of a PVD coating has become widespread, particularly in applications where the cutting edge is required to be hard or sharp.
Advanced Coating Service offers many PVD coatings, each with its own benefits. Based on your requirements, we'll work with you to select the best option.
APPLICATIONS
Cutting Tools – Help extend the life of your cutting tools. Applying a PVD coating will allow you to reduce costs and have less down time.
Punching – With a coated punch, the edge retains sharpness, and galling & side wear are reduced.
Forming – Die polishing and galling is eliminated when a coating is applied. The abrasion resistance, hardness, and lubricity of the PVD coating will result in longer tool life and improve part quality.
BENEFITS FOR TOOLING & MACHINING INDUSTRY:
Time Benefits
Run faster
Save time & effort
Reduced down time of your machine
Less time spent re-testing batches
Higher speeds & feeds
Budget Benefits
Reduced labor costs
Reduced cost of tooling
Energy Benefits
Save fuel
Increased operating temperatures
Performance Benefits
Cut harder
Last longer
Work hotter
Order smarter
Improved productivity
Reduced wear
Reduced friction (increased lubricity)
Increased lifespan / longevity of your part
Use less cutting oils
Increased quality
Increased performance
RECEIVE A COMPLIMENTARY TEST COATING
We're so confident you'll love the performance of our tool coatings and customer service that we offer a complimentary test coating of your first part. We will provide a full credit of the cost of coating the test parts, applicable towards the first production order that you place with ACS after the test coating evaluation.